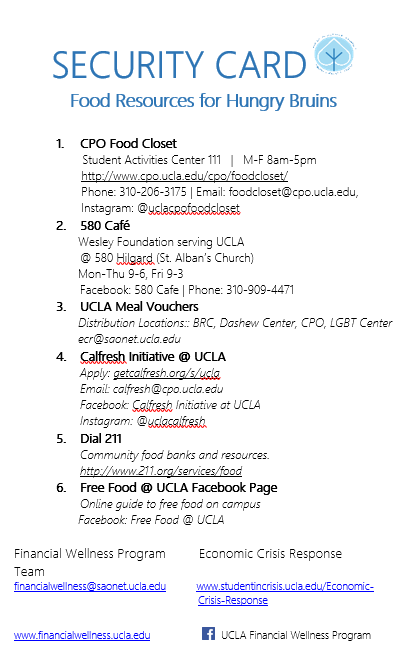 CPO Food Closet
Location: Student Activities Center 111
Phone Assistance: (310) 825-5969
Description: For UCLA students who may be experiencing hunger and/or struggling to attain food due to financial hardships. The Food Closet accepts stock and checks as donations. Fresh produce, canned goods, and toiletries.
Email: support@cpo.ucla.edu
Website: http://www.cpo.ucla.edu/cpo/foodcloset
Cafe 580
Location: St. Alban's Episcopal Church on Westholme Ave / Hilgard Ave.
Zoom Times: Mon-Thurs 8:30 AM – 6 PM, Fri 8:30 AM – 3 PM
Phone Assistance: (310) 208-6516 OR (310)-909-447
Description: Free food, hot meals, and kitchen and internet access available for financially struggling students. Please call for details.
Email: wfsucla@gmail.com
ECRT Meal Vouchers
Location: 2131 Murphy Hall
Zoom Times: (UCLA Student Support Line) Mon-Fri 9 AM – 7 PM
Phone Assistance: (ECRT's Line) (310) 794-4146, (UCLA Student Support Line) (310) 825-3894
Description: A limited amount of dining commons meal vouchers available to students who meet at-need criteria. These vouchers are distributed at various locations on campus. For more information, email ECRT.
Email: ecr@saonet.ucla.edu
UCLA CalFresh
Zoom Times: Mon 10 AM – 2 PM, Thurs 1 – 5 PM
Description: If a student is in need of financial help for food, they can apply online and get a grant up to $194/month for groceries. The applications are reviewed based on who you regularly cook and prepare foods with.
Email: calfresh@cpo.ucla.edu
Website: dpss.lacounty.gov ( General Relief Applications) & https://www.basicneeds.ucla.edu/services/calfresh
Zoom Meeting Link: http://calendly.com/uclacalfresh
UCLA CPO FITTED EATS
Description: Student-run organization dedicated to having students live a better physical lifestyle by offering informational seminars and resources. The goal is to promote personal growth and wellness for an individual while incorporating healthy habits into their lives.
Email: basicneeds@ucla.edu
Website: https://www.basicneeds.ucla.edu/#:~:text=CPO%20Food%20Closet%20It%20was….
UCLA CPO Basic Needs
Description: Students can find a plethora of resources dedicated to helping them with security on basic needs. These resources are provided both on-campus and off-campus for students all across UCLA. Resources include transportation, food security, financial wellness, education on cooking, and technological resources such as laptops.
Email: thinkfitted@cpo.ucla.edu
Website: https://www.basicneeds.ucla.edu/services/fitted-eats and https://docs.google.com/document/d/1AUbLyaeYTLGPY1tnDJTG3ROzXKVY0QvF5oOy9_ZLmKo/edit ( Basic needs PDF)
UCLA CPO Bruin Bites
Description: A text-messaging app that notifies students of available food from on-campus events.
Email: basicneeds@ucla.edu